Quality Service. Unmatched Value.
About DirtBClean
DirtBClean is locally owned and was founded in 2015 by Damilola Herbert. After completing her MSc in Biochemistry at the University of Lethbridge, Dammy decided to follow her dream career of becoming an entrepreneur in the cleaning industry.Growing up as a little girl Dammy battled with chronic Asthma. This resulted to owning her own cleaning business, combined with her background in science and knowledge in chemical application, she has carefully hand-picked the product that she uses. Her priority is to eliminate any harmful cleaning chemicals used in residential and commercial spaces. She has worked closely with different cleaning manufactures to get superior cleaning products to clean any type of interior environment at an affordable price.
DirtBClean offers professional Residential Cleaning, Commercial Cleaning, Office Cleaning, Post-construction, Move-out/Move-in Cleaning and Carpet cleaning services. We provide all the cleaning supplies needed to complete the job to your satisfaction. All our employees are bonded and fully insured.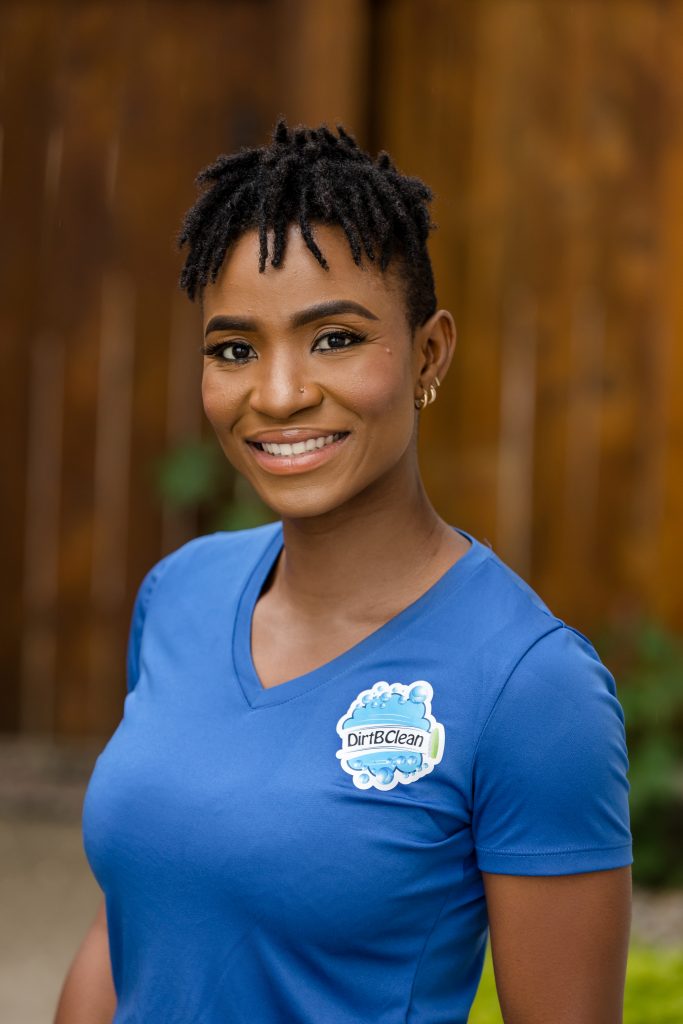 Frequently Asked Questions
1
How many people would be cleaning my home?
Depending on the size of the space we send 1-3 people each time.
2
Will I get the same Cleaning representative(s) every time?
We try our best to match you with the same team member(s). However, if the staff assigned was sick or unavailable, we would offer you an option to reschedule or to use a different staff(s).
3
Will my rate change every time I use your service?
Our rates are typically fixed and would only change when there is an inflation due to fuel, wages etc.
4
What payment method do you accept?
We accept most payment methods including credit cards, debit cards, interact-etransfer and Cash on-site.
5
What if I need to cancel a cleaning at the last minute?
We ask for 48hours notice if your plan to reschedule or cancel an appointment.
6
Do I have to provide the cleaning product and equipment?
We provide all the necessary supplies and you do not need to provide anything. If you prefer to use your supply for a reason let our staff know and our staff would be happy to use it.
7
Can I get cleaning services on the weekend?
Absolutely. We have staff member whose schedule favour the weekend.
8
What if I am unhappy with the service?
We offer the opportunity to inspect the job before the staff leave. If you unsatisfied with the service, the staff will put more effort to correcting short fans. If you are still unhappy, please call or email us directly and we will make every effort to correct and rectify.
In my opinion DirtBClean best cleaning company in town. Seriously, from talking to them on the phone to booking an appointment. They just really care about what they do and that also shows in there work. Thanks for the deep cleaning you did at our house my wife was so impress when she got home.

Wow! I can't believe how detailed this cleaners were. They even cleaned things that we did not expect cleaned. From booking to the day of cleaning everything was effortless and professional. I would use dirt b clean again.

As my wife and I had to move out on short notice, DirtBClean was able to shift some things around to ensure that our previous place was well cleaned before the end of month. It was definitely a long shot when we asked them to clean our place but they still said yes and made sure we were able to meet our deadline. I would highly recommend their services and will be sure to use them again.

I emailed DirtBClean and within an hour Esther emailed me back. We needed our dad's house deep cleaned, and we met that night to get a quote. They were able to do it the next day. The quality of the clean is amazing! They did a stellar job, I would recommend Esther and DirtBClean to anyone that needs an amazingly clean house. Will use them again and again.